You are here
Back to top
Killing Crazy Horse: The Merciless Indian Wars in America (Bill O'Reilly's Killing Series) (Hardcover)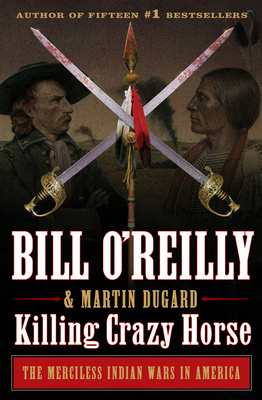 $30.00
Usually Ships in 1-5 Days
Description
---
The latest installment of the multimillion-selling Killing series is a gripping journey through the American West and the historic clashes between Native Americans and settlers.

The bloody Battle of Tippecanoe was only the beginning. Its 1811 and President James Madison has ordered the destruction of Shawnee warrior chief Tecumsehs alliance of tribes in the Great Lakes region. But while General William Henry Harrison would win this fight, the armed conflict between Native Americans and the newly formed United States would rage on for decades.

Bestselling authors Bill OReilly and Martin Dugard venture through the fraught history of our countrys founding on already occupied lands, from General Andrew Jacksons brutal battles with the Creek Nation to President James Monroes epic sea to shining sea policy, to President Martin Van Burens cruel enforcement of a treaty that forced the Cherokee Nation out of their homelands along what would be called the Trail of Tears. OReilly and Dugard take readers behind the legends to reveal never-before-told historical moments in the fascinating creation story of America.

This fast-paced, wild ride through the American frontier will shock readers and impart unexpected lessons that reverberate to this day.
About the Author
---
BILL OREILLYs success in broadcasting and publishing is unmatched. He was the iconic anchor of The O'Reilly Factor, the highest-rated cable news broadcast in the nation for 16 consecutive years. His website BillOReilly.com is followed by millions all over the world, his No Spin News is broadcast weekday nights at 8 and 11 (ET) on The First TV, and his OReilly Update is heard weekdays on more than 225 radio stations across the country. He has authored an astonishing fifteen #1 bestsellers; his historical Killing series is the bestselling nonfiction series of all time, with nearly 18 million books in print. OReilly has received a number of journalism accolades, including three Emmys and two Emmy nominations. He holds a History degree from Marist College, a master's degree in Broadcast Journalism from Boston University, and a masters degree from Harvards John F. Kennedy School of Government. OReilly lives on Long Island where he was raised. His philanthropic enterprises have raised tens of millions for people in need and wounded American veterans.

MARTIN DUGARD is the New York Times bestselling author of several books of history, among them the Killing series, Into Africa, and The Explorers. He and his wife live in Southern California with their three sons.